When you need a car accident chiropractor in West Windsor, don't hesitate to contact our Align Health & Wellness team at 609-799-8444.
The probability of getting an injury from a car accident is high. In 2020 alone, the New Jersey Department of Transportation reported over 190,000 statewide crashes. Many people seek chiropractic care to help their bodies recover naturally from car accident injuries, but what happens during the first chiropractic visit?
If you experience chronic pain after a car accident and want non-surgical treatments from a chiropractor in West Windsor, NJ, Align Health & Wellness can help. As a leading chiropractor in the area, we have years of experience treating patients with pain and conditions like whiplash after auto collisions. The Align Health & Wellness team can help you reclaim your physical wellness through strategic chiropractic adjustments. 
To help you prepare for your first chiropractic visit, we outline some essential facts, expectations, and tips to remember. 
Why You Should Visit a Car Accident Chiropractor
After a car crash, visiting a chiropractor should be a top priority, even if you don't immediately feel injured. The specialists' treatments can help your body heal without surgical intervention and prevent long-term damage. 
For instance, whiplash is a typical car accident neck injury that over two million people in the country experience yearly. The neck muscle sprain or strain can occur from your head suddenly snapping forward at speeds as low as ten miles per hour. A skilled chiropractor can diagnose the injury and provide chiropractic treatment to address the neck strain and alleviate symptoms.
What to Expect During a Chiropractic Appointment for a Car Accident Injury
Over 75% of people who received chiropractic treatment for pain relief described the care as "very effective." Despite the practice's popularity, you may be hesitant to see a car accident chiropractor in place of or in addition to conventional medicine. However, some auto collision injuries don't develop symptoms until days or weeks after the event, which may prompt you to seek chiropractic treatment. 
Before your first chiropractic treatment, consider the information below to know what to expect.
Initial Consultation
Your first chiropractic appointment begins with a consultation. The chiropractor will review your medical history and ask questions about your car accident and symptoms. This information helps them diagnose the source of your pain or discomfort. 
Full Body Tests
Medical history alone is not enough to diagnose and treat a car accident injury. The chiropractor will also perform a physical exam, primarily on your back, neck, and spine. However, the chiropractic professional may also assess your knee, hip, or shoulder joints if you experience injury symptoms like stiffness, inflammation, and swelling in those areas. 
Your physical examination helps thoroughly determine your overall health. The whole body assessment may include tests for: 
Blood pressure

Breathing rate

Pulse rate

Range of motion

Flexibility

Reflexes 
As part of the tests, your chiropractor may also order diagnostic imaging testing like X-rays or MRIs. Scans from imaging tests help chiropractor identify spinal or joint issues beyond what they can see with their naked eye that could cause the symptoms you feel after an accident. 
Personalized Treatment Plan
Chiropractors specializing in a patient-first approach offer personalized treatments to address the issues they uncover during the consultation and physical tests.
Despite roughly half of the American adult population being chiropractic patients, not everyone has the same conditions, injuries, or circumstances. So, it's usually better to receive a personalized chiropractic treatment plan to address your specific car accident-related injuries.
Spinal manipulations are the most common chiropractic treatments. Though spinal alignments can help your body heal without surgery or daily medications, they might not be enough. Your chiropractor may also include other treatments to aid in your recovery, such as:
Massage

Spinal decompression
How to Prepare for Your First Appointment with a Car Accident Chiropractor
Preparing for your first chiropractic visit isn't much different than preparing for any other medical appointment. However, you can follow these tips to help make your visit successful.
Arrive Early with Everything You Need
The day before your chiropractic appointment, gather the necessary information or documents for the visit. For instance, you can bring your medical records or a paper with your written medical history. You may also bring a note detailing your symptoms, when you experience them, and their severity.
On the day of your appointment, arrive at least 15 minutes earlier than the scheduled time. The office may need you to fill out paperwork or gather information. If you arrive early, you can complete everything without infringing on your appointment time. 
Dress Comfortably
You may undergo a chiropractic adjustment during your first appointment, often requiring you to lie on a table and move in various positions. It's best to dress comfortably in garments that allow movement for chiropractic adjustments, physical exams, and X-ray imaging. 
Examples of comfortable clothing include loose-fitting pants and T-shirts. Tight, restrictive clothing is not advisable. 
Be Ready to Discuss Your Ailments
During the first appointment, you will spend considerable time discussing the accident and your injuries. This information is crucial for diagnosing your injury and creating an effective treatment plan for your recovery.
Discussing your concerns, symptoms, and lifestyle may feel uncomfortable, but it's necessary. It's best not to withhold information that could affect your treatment plan.
Begin Your Path to Wellness with Quality Chiropractic Care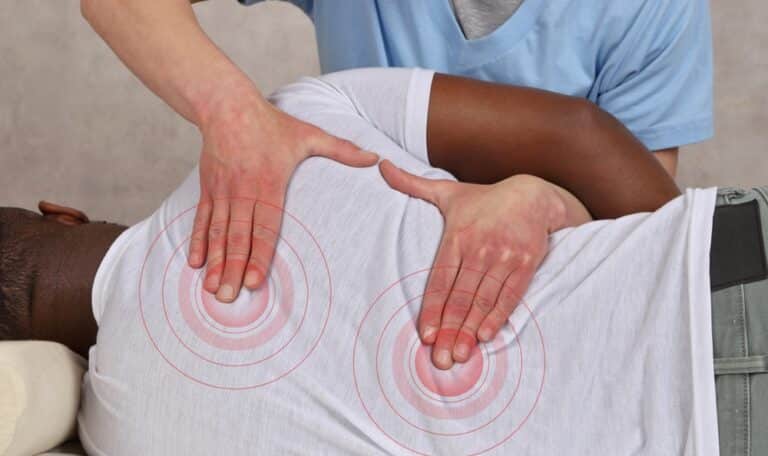 After a car accident, you might be nervous about scheduling your first chiropractic visit to address chronic pain or restricted movement. However, at Align Health & Wellness, we offer personalized rehabilitative treatment plans that help patients recover from injuries without surgery or medication. Our caring and knowledgeable doctors accept most insurance plans, like workers' compensation, NJ PIP (personal Injury protection), and no-fault. 
Contact us today at 609-799-8444 to schedule your first chiropractic visit and possibly receive a same-day appointment. Your Align Health & Wellness team provides guidance to make your wellness journey more effective and less stressful.
If you are wondering how long to see a chiropractor after a car accident, read our blog.