Get the chiropractic care you need for a healthy recovery by calling our clinic at (609) 799-8444.
Car accidents cause injuries such as head trauma, broken bones, concussions, and more. Back injuries, however, are one of the most common and long-lasting due to improper treatment. That's why you should contact an auto accident chiropractor as soon as you begin to recover. 
The American Chiropractic Association (ACA) states that chiropractors help 35 million Americans annually. Chiropractors are certified medical professionals that must undergo 4,200 hours of internship, lab, and class work before working in a clinical setting. Furthermore, the American College of Physicians recommends spinal manipulation as one of the most effective ways to treat lower back pain.
As such, chiropractic care from a trusted chiropractor in West Windsor can help injured car accident victims in numerous ways.
Spinal Injuries Caused by Car Accidents
The National Library of Medicine published a study in 2017 stating that the most common place in the spine to sustain damage is the lumbar region. These injuries account for nearly 65% of spinal injuries that occur during a car accident. The same study mentions that in conjunction with a pelvic injury, the damage sustained by one's body after a car accident can injure internal organs and cause hypertension. 
According to an article published in Forbes, one may also sustain thoracic, facet joints, fractures, and more severe injuries during a car wreck. Whether you sustain a moderate or severe injury, chiropractic care can help you begin the recovery process through the recuperation of strength, flexibility, and range of motion. 
3 Benefits of Chiropractic Care After an Accident
Seeing a chiropractor following a car accident offers several benefits.
1. Pain Treatment and Reduction
Though the medicines that doctors prescribe significantly reduce pain after an auto accident, these pills treat the symptoms rather than the problem. Thus, these medications will only alleviate symptoms rather than treat damage to the back. Chiropractic treatment, on the other hand, uses spinal manipulation to realign the back and improve how the muscles and joints function. 
2. Help Unseen Injuries Heal
Many car accident injuries occur under the skin. For example, Rush University Medical Center mentions that 2 million Americans experience whiplash annually and that car crashes are the most common cause of this condition. So you may not notice whiplash until days after the accident when symptoms such as headaches, dizziness, and difficulty concentrating or sleeping begin to appear.
Failing to treat whiplash will make it worse, but investing in chiropractic care ensures you won't leave your back injuries untreated. 
3. Regain Range of Motion
Another study published in the National Library of Medicine mentions that spinal manipulative therapy positively affects the cervical spine's range of motion due to reduced pain. Many patients also report decreased pain and increased flexibility after seeing a car accident chiropractor. This pain relief can help you go back to performing your daily activities as normal after a car wreck and improve the scope of your hips and spine rotation. 
West Windsor, NJ's Premier Auto Accident Chiropractor Service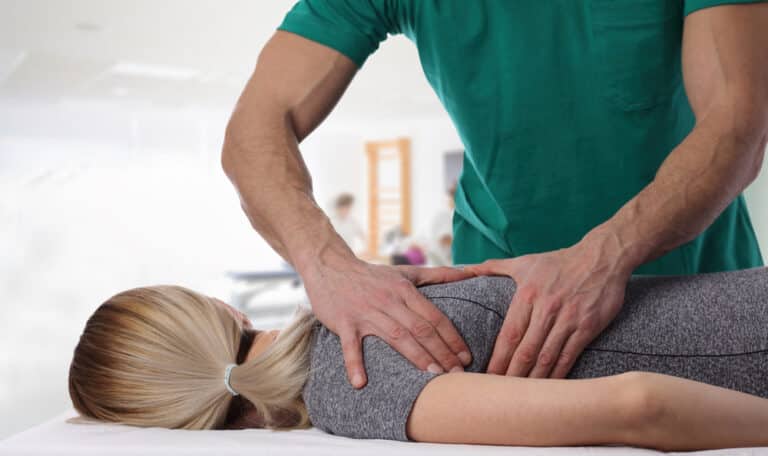 Contacting an auto accident chiropractor can accelerate your recovery process and improve your quality of life. If you need a car accident chiropractor in West Windsor, trust our experts at Align Health & Wellness. 
Our doctors accept most insurance plans, including workers' compensation, no-fault, and PIP (Personal Injury Protection). Our team of auto accident chiropractors also has decades of experience in giving chiropractic adjustments.
Call our friendly team to schedule your first appointment in West Windsor, NJ, at (609) 799-8444 today. Same-day appointments may be available. Alternatively, check out our blog for more helpful topics, such as signs you need a chiropractor after a car accident. 
FAQs Answered by a Car Accident Chiropractor
How Long Does It Take a Chiropractor to Fix Whiplash?
Whiplash recovery is specific to each case. Depending on the severity of your car accident and injuries, as well as the treatment that your chiropractor decides on, recovery can take from six weeks to six months.
Should You See a Chiropractor After a Car Wreck?
With the help of modern medicine and painkillers, you may not initially notice spinal injuries until days or weeks after a car accident. As such, you should see a car accident chiropractor to reduce your pain and recover your range of motion following an accident. 
How Soon Should You See a Chiropractor After a Car Accident?
If you want to try to justify chiropractic care after a car wreck with your health insurance company, you should see a chiropractor within the first three days after an accident. Waiting longer decreases your chances of receiving coverage.